Birte Joppien, M. A.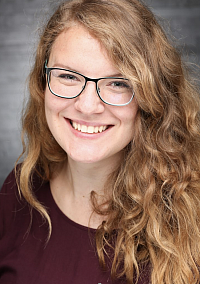 Birte Joppien, M. A.
Mitteldeutsches Multimediazentrum (MMZ)
Mansfelder Str. 56, Raum 219
034555 23636
birte.joppien@medienkomm.uni-halle.de
www.birtejoppien.com
Vita
Birte Joppien ist seit 2022 Wissenschaftlich Mitarbeiterin am Lehrstuhl für Medienwissenschaft (Schwerpunkt Medien und Digitale Kulturen). Ihrr Schwerpunkte in der Lehre sind Diversity Aspekte in der Medienanalyse.
2020 fokussierte sie sich in ihrem zweiten Masterstudiengang der ›Medienkulturanalyse‹ an der Heinrich-Heine-Universität Düsseldorf auf feministische Fragestellungen im Bereich der Film- und Medientheorie.
Davor absolvierte sie ihren ersten ›Master of Arts in Digital Arts and Humanities‹ am University College Cork in Irland. Für ihren Abschluss kartoraphierte sie persönliche Erzählungen von lokalen Autor:innen in ihrem digitalen Projekt »The Influence of Places – Mapping Cork City's Spatial Influence on Local Writers«. Hier ging sie bespnders auf soziokulturelle Aspekte des ›place attachement‹ und Erzähkultur ein.
Letzteres ist ein Schwerpunkt, den sie seit ihrem Bachelorstudium der Kulturanthropologie und Publizistik an der Johannes-Gutenberg-Universität in Mainz verfolgt.
Ihr aktuelles Forschungsgebiet sind feministische Analysen der erhaltenen Filme der französischen Filmemacherin Alice Guy.
Forschungsschwerpunkte
Feministische Medienanalyse: Feministische Filmtheorie, Data Feminism, (übergangene) Frauen in der Filmgeschichtsschreibung
(Digitale) Alltagskultur im Wandel: Audiovisuelle Selbstdokumentation wie Videotagebücher, Mediatisierung der Massen- und Privatkommunikation, Digital Storytelling
Methoden der Digital Humanities, besonders Daten-Vidualisierungen wie Digital Mapping für räumliche und zeitliche Darstellungen sowie Netzwerke
Oral History, Erzählkultur und Citizen Science in den Geisteswissenschaften
---
---
Jump directly to: To the beginning of the text (Jump over the navigation) , Main navigation , Themes navigation , To the search , Up